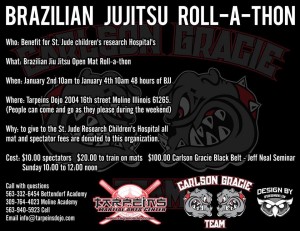 Tarpeins Dojo's  and awesome students are kicking off the New Year with a bang! We are doing a Brazilian Jiu Jitsu Roll-A-Thon of St. Jude Children's Hospitals. It's an open mat with the idea of  bouncing ideas off fellow BJJ'ers.   All schools are welcome as well as all skill levels. Mat and spectators fees are going to be donated to the organization.
We start Jan 2nd at 10 am and go till Friday Jan 4th. 10 am.  Feel free to stop in train, watch, and donate for a great cause.
Jeff Neal – A Carlson Gracie Black Belt will conduct a seminar Sunday at 10 am. See you on the mats.